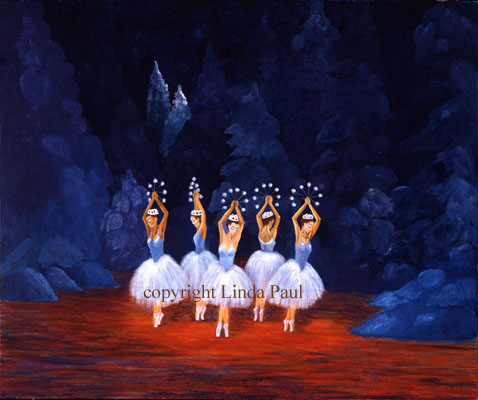 Painting from the Nutcracker by Linda Paul
Got a few extra minutes to get into the Nutcracker and holiday spirit? Sit back and enjoy some excerpts and interviews from some of the world's greatest ballet companies and their Nutcracker performances. Many big ballet companies have their own YouTube channels. Search for them and watch clip after clip of not only performances, but interviews and rehearsals.
Miami City Ballet has quite a few back-stage interviews done by the company members themselves, so it really gives viewers a relaxed and real inside-look into the company.
Here's Patricia Delgado interviewing her sister, Jeanette, who is the Dewdrop.
And here is Patricia Delgado's Nutcracker journal, where she tapes rehearsals and interviews the dancers about their parts in the show.
And an interview with retiring ballet dancer, Deanna Seay, who dances the Sugar Plum Fairy.
New York City Ballet's Channel:
http://www.youtube.com/user/newyorkcityballet
Pacific Northwest Ballet's Channel:
http://www.youtube.com/user/pacificnwballet
Joffrey Ballet's Channel:
http://www.youtube.com/user/TheJoffreyBallet
Houston Ballet's Channel:
http://www.youtube.com/user/houstonballet
San Fransisco Ballet's Channel:
http://www.youtube.com/user/SFBallet
Annaheim Ballet's Channel:
http://www.youtube.com/user/AnaheimBallet