Here is the most famous scene from the ballet, with London's Royal Ballet greatest, Rudolph Nureyev and Margot

Fonteyn

. After this performance, their partnership became famous.
Plot
[Excerpt from
dance.about.com
] The ballet begins with feuding between the
Capulets
and the
Montagues
. Wearing a disguise, Romeo Montague crashes a party at the Capulet house, where he meets Juliet Capulet. He falls instantly in love with her. The two secretly proclaim their eternal love for each other, on the balcony.
Hoping to finally put an end to the family feud, Friar Laurence secretly marries the couple. But the feuding continues: Juliet's cousin Tybalt kills Romeo's friend
Mercutio
during a fight. A distraught Romeo kills Tybalt in a fit of revenge, and is sent into exile.
Juliet turns to Friar Laurence for help, so he devises a plan to help her. Juliet is to drink a sleeping potion to make her appear dead. Her family will then bury her. Friar Laurence will then tell Romeo the truth; he will rescue her from her tomb and take her away, where they will live together happily ever after.
That night, Juliet drinks the potion. When her distraught family finds her dead the next morning, they proceed to bury her. The news of Juliet's death reaches Romeo, and he returns home desperately grieving. (He never received the message from Friar Laurence.) Believing that Juliet is really dead, he drinks poison. When Juliet awakens, she sees that Romeo is dead and stabs herself.
Romeo and Juliet Trivia
Even though Shakespeare wrote Romeo and Juliet back in the late 1500's, the ballet was not created until 1938!
Sergei

Prokiev

composed the score in 1935, after being commissioned by the Russian Kirov Ballet, but the full-length ballet was not presented until 1938 in Brno, Czechoslovakia. However, it is better known today from the significantly revised version that was first presented at the Kirov in Leningrad in 1940, with choreography by Leonid

Lavrovsky

.
The ballet did not premier in America until 1969, when it was performed by the Stuttgart Ballet. The first American ballet company to do the ballet was the

Joffrey

Ballet in 1984.
Here is a brief timeline of the ballet's most famous performances:

1962 - Stuttgart Ballet (Germany), choreographed by John

Cranko



1965 - Royal Ballet in London, choreographed by Sir Kenneth

MacMillan

. Margot

Fonteyn

and Rudolph Nureyev brought new life to the characters.
1985 - Hungarian National Ballet, choreographed by

László

Seregi

in Budapest
1984-85 -

Joffrey

Ballet was the first American ballet company to perform the ballet
2007 - New York City Ballet,

restaged

by Peter Martins to the Prokofiev music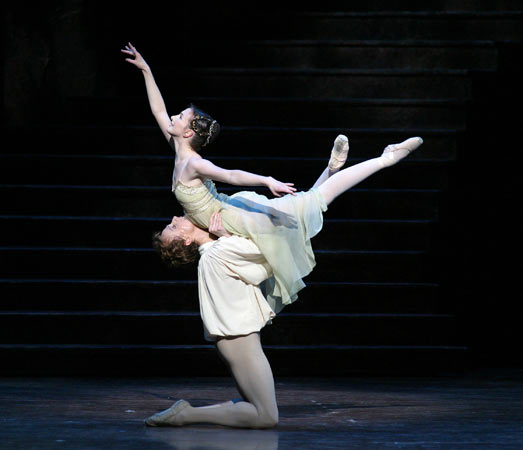 Lauren

Cuthbertson

as Juliet dances with Edward Watson as Romeo, of the Royal Ballet in 2006

Photograph: Dee Conway
[All trivia taken from
wikipedia

.org
]